Crowned as "the jewel" of San Diego, La Jolla occupies 7 miles (11 km) of curving coastline along the Pacific Ocean within the northern city limits in Southern California.
In Spanish, La Jolla means "the jewel" which suits this charming seaside town remarkably well.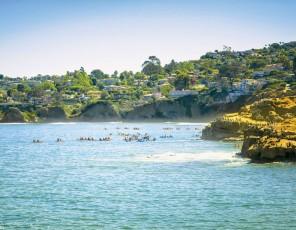 La Jolla had the highest home prices in the nation with the average being $1.842M in 2008. A year later the average was $2.125M, beating the famous Beverly Hills in Los Angeles.
When California became a state in 1850, the La Jolla area was incorporated as part of the chartered City of San Diego. In 1870 Charles Dean acquired several of the pueblo lots and subdivided them into an area that became known as La Jolla Park.
In the 1890s, the Pacific Beach, San Diego, and La Jolla Railway were built, connecting La Jolla to the rest of San Diego. La Jolla became known as a resort area. To attract visitors to the beach, the railway built facilities such as a bath-house and a dance pavilion. Visitors stayed in small cottages and bungalows above La Jolla Cove, as well as a temporary "tent city" erected every summer. Two of the cottages built in 1894 still exist. The La Jolla Park Hotel opened in 1893. The Hotel Cabrillo was built in 1908 by "Squire" James A. Wilson and was later incorporated into the La Valencia Hotel.
La Jolla is a great resort town. Without the hustle and bustle of a big city, but evokes a Mediterranean feel. Several parks, beaches and sea lion pools dot along the 10 km Coast Boulevard. Colorful gardens, palm trees, bushes, and kids playing in the amusement parks… form a set of beautiful scenery.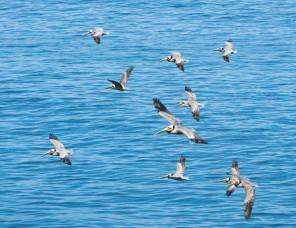 Rich in culture, La Jolla is home to the renowned UC San Diego, as well as many world-class scientists and artists. Prospect Street runs through the town of La Jolla, with shops, art galleries, museums, churches, banks, and hotels of unique architecture style on both sides. Most cafes and restaurants near the sea have outdoor seating with a view of the ocean, white clouds floating across the blue sky, and seagulls flying above the wave crest. While enjoying a delicious meal, customers are sure to be delighted by this heavenly, natural beauty.