"Western paintings, with strict painting skills, put emphasis on reality, while Eastern paintings tend to emphasize artistic conception and aim to express spirits through works of art.
Traditional Chinese culture pays close attention to the course of the Mean and balance. Though traditional Western art is good, a complete revival of Western art does not necessarily fit our modern society. Thus, we can turn to Eastern wisdom of balance to find the right viewpoint to elevate genuine art and human culture."   – Liu Ren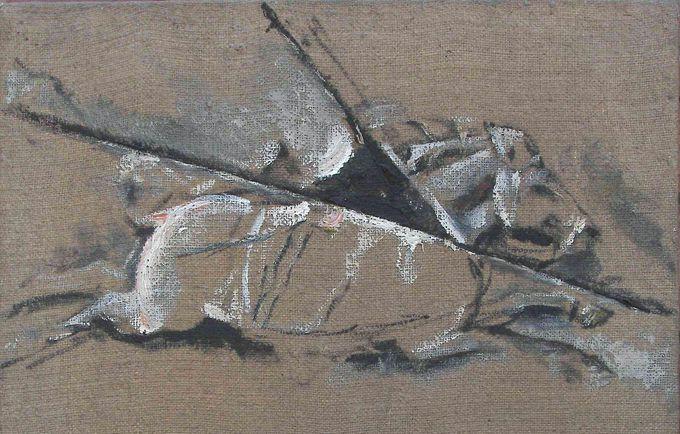 He said, "A long time ago, Chinese students had already traveled abroad to learn classical fine arts in the West, but the essence of classical Western arts had not been systematically inherited in fine art academies in China. China's fine art education was modeled on that of the Soviet Union; a systematic art education in China never came into fruition. The introduction and continued influence of modern arts further complicated the situation. The overall teaching process left students a sense of confusion." Liu Ren was particularly concerned about the influx of various trends of modern arts. "Today Modern art sees one school succeeding another, valuing eccentricity and even ugliness over beauty. Classical realism in paintings has been marginalized."
In bewilderment, Liu Ren often examined classical Western masterpieces, imitating their painting styles. Even today, he still spends weeks imitating works of Western masters. He said, "Renaissance art is characterized by a pursuit of ultimate perfection; ancient works of art are of great beauty. The Western society highly cherishes their traditional and classical arts."
Apart from masterpieces of Western art, Liu Ren also drew inspiration from classical Chinese paintings which explored beauty and wisdom of life in another way. For example, in front of the mausoleum of the Emperor Taizong (626-649) there are six horses displayed, named "Six Steeds of Zhao Mausoleum" which is a relief work representing six precious war horses owned by the commemorated Tang Dynasty Emperor. Liu Ren said "Works of Tang Dynasty are of breathtaking grandeur, quite realistic, yet artistically expressive. The spirit of freehand brushwork greatly influences the development of Chinese art, whose essence lies in the expression of artistic bearing."
Liu thinks extremist realism runs the risk of ending up superficial instead of revealing the wisdom beneath the surface. He considers classical Chinese art a way to compensate for the limitations of Western art. "Western paintings, with strict painting skills, put emphasis on reality, while Eastern paintings tend to emphasize artistic conception and the aim to express one's spirit through works of art. Traditional Chinese culture pays close attention to the course of the Mean and balance. Though traditional Western art is great, a complete revival of Western art does not necessarily fit our modern society. Thus, we can turn to Eastern wisdom of balance to find the right viewpoint to elevate genuine art and human culture."
Through ceaseless imitation and exploration of classical art of East and West, Liu Ren keeps enriching his own artistic taste and expression.
Painting and Cultivation
How can one appreciate and learn classical art? How can one even inherit and develop it in our modern society? For Liu Ren, the answer lies within the soul of life. "Modern artistic communities pursue immediate material results; everyone longs for overnight success. Some have real passion for painting and devote their life to it, whereas others consider painting an approach and a path to a successful spiritual life. If an artist forgets essence in art and fails to reach a certain level of personal cultivation, temporary success is far away from real achievement."
As a teacher, Liu Ren talked about the benefits of painting practice. "To begin with, painting is a way to train students to become calm, since one can truly understand philosophy and art only when one is in a state of serenity. After practicing for a period of time, an artist can learn to be calm and is then able to take a clearer look at an object. This kind of training can be applied to other aspects of a painter's life. For instance, it will help him to listen more attentively, which in turn will help upgrade his personal cultivation."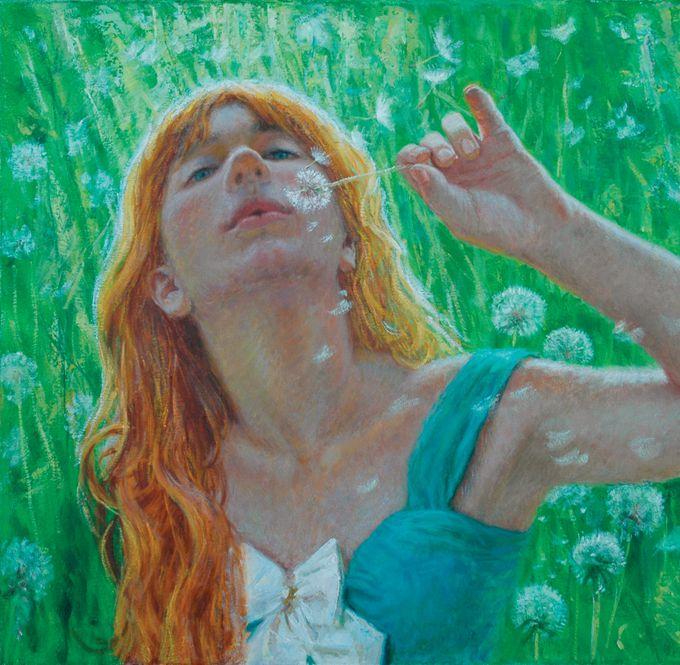 Indeed, the inner aesthetic view of an artist is closely associated with the level of his mind. Western philosophers have long discussed benefits of aesthetic education. Liu Ren personally experienced these benefits. "Exposure to painting will allow one to appreciate something beautiful and can thereby guide a person towards a better, more pure soul. This way he will not commit wrongdoing, and will gradually become a kind person. Exposed to such an environment of beauty, one can be spiritually upgraded."
With aesthetic training and personal cultivation, an artist will not merely focus on visual effects but on the deeper aspects of life and then express them via art. Liu Ren believes that only artistic works of this kind can produce lasting impact, just as the best music can echo around the rafters of a concert hall for three days, as in traditional Chinese stories.
"A creation of great excellence will attract you this way. Maybe you will feel nothing particular at first sight, but the longer you look at a work, the more interested you may feel. You enjoy the process, and at the same time the level of your thought is deepened. Besides the superficial imagery of the painting, I hope our paintings can bring more to viewers: more pleasure, and more inspiration."
Memories of Tibet, A Tale of the Soul
Tibet has played a vital role in the artistic career of Liu Ren. He went to Tibet on his own in 2007 and 2008, where he experienced the modesty, honesty, and religious devotion of Tibetans. "Pilgrimage" is the most important element of Tibetan life. Many Tibetans will embark on their Holy Journey at least once in their lifetime, whatever the costs.
Recalling the time, Liu Ren sighed, "Most of the pilgrims I met were walking totally alone, along the road. Yet the old woman in the painting does not seem to suffer from loneliness; the look in her eyes reveals neither tiredness nor fear." Liu Ren said the most solemn and sincere ritual for pilgrims is the Tibetan kowtow. Pilgrims lie prostrate, with their head, arms and knees down on the ground as a sign of worship. They then slowly move one step forward, followed by another kowtow. Many pilgrims will spend at least two years on the Holy Journey, carrying minimum belongings and living mostly on begging. Their firm religious belief brings them inner peace, kindness, mutual friendship and trust. Once when lost on his trip, Liu Ren was invited home by a Tibetan, who was stranger to him, to stay at his place for the night. This was a common practice in Tibet.
Chant
Many of the paintings by Liu Ren center on Tibetan themes. In Tibet, young and old alike have a prayer wheel in their hands. Spinning the prayer wheel is seen as a substitute for orally reciting the prayers and as a way to pray for well-being and spiritual purity in next life. From the spinning wheels Liu Ren draws his inspiration for his painting "Chant." The old woman in the painting is spinning the prayer wheel in her hand, with a serene expression. With her inner faith and spiritual pursuit, she appears optimistic; not swayed by her surroundings. The painting is set in sacred Tibetan murals, adding to an atmosphere of beauty and peacefulness.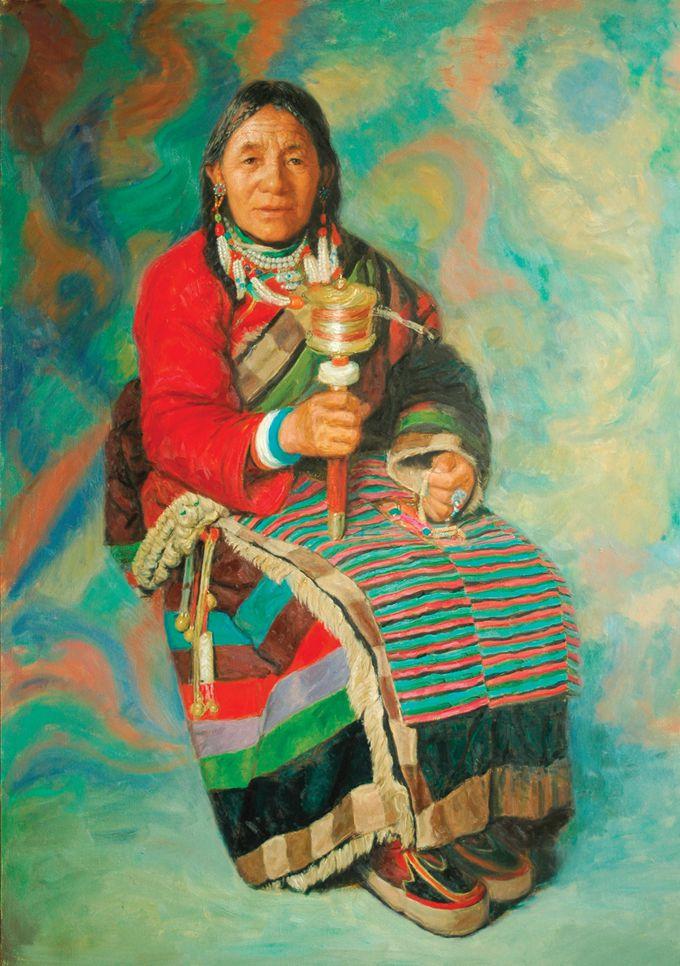 Softening Sheepskin
Tibetans are well-known for their talent in singing, dance and passion for life. The painting "Softening Sheepskin" by Liu Ren depicts a typical daily scene in Tibet. Sitting outside the house gate is a young girl busy softening sheepskin. The girl's splendid costume and accessories reflect Tibetan passion for life. A Tibetan khata, a most precious gift for guests, is swinging in the breeze, against the ornate gate. Though most Tibetans are not rich, they keep their houses tidy, wear colorful costumes and accessories, and live every day to the fullest. Liu Ren has the wish that this painting could inspire everyone to enjoy every day to the full.
Religious devotion, purity and kindness of Tibetans are preserved in the paintings and memories of Liu Ren. Tibet reminds him of a retreat from the turmoil in the world. By contrast, many temples in Mainland China have been commercialized and thereby lost their essence.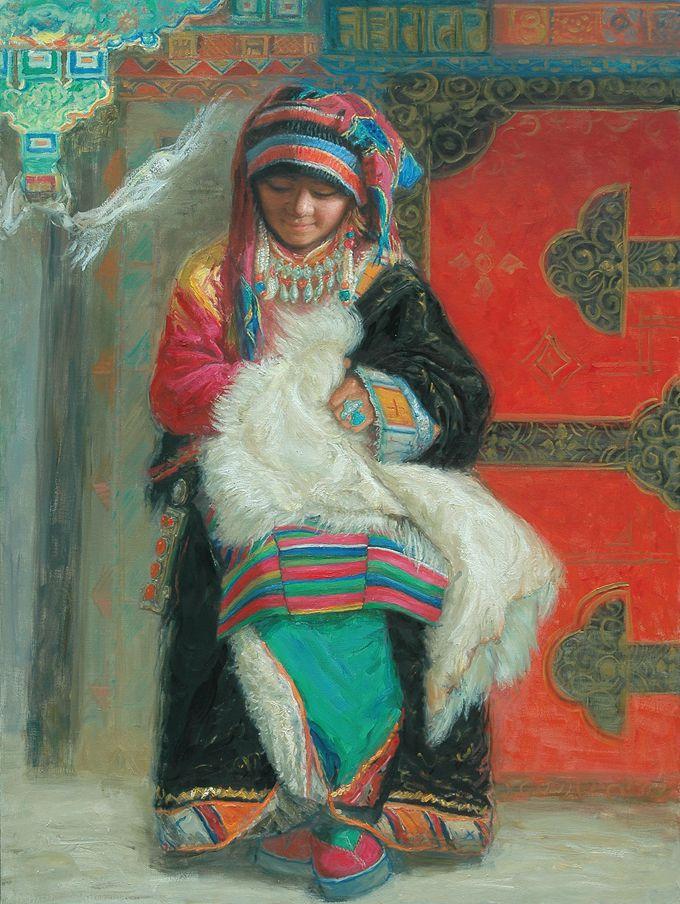 An Explorer of Art
"I have always believed ancient aesthetics are far better than modern ones," Liu Ren commented. "Modern people are enjoying material advancement, while their aesthetics and spirits are decaying; their perception of the outer world is deteriorating."
Liu Ren even quoted from Buddhist scripts to refer to modern days as "The Last Period of the Dharma," when human morality is escalating downward. Disappointed at modern society, Liu Ren has instead been fascinated with the ancient society. "I hope to aesthetically trace the lifestyle of ancients, in an effort to learn from their lifestyle and to contribute to an artistic renaissance."
Now residing in the U.S., Liu Ren has better opportunities to learn Western and Eastern classical arts, and to combine the advantages of both traditions. "I still hope to make more time for artistic compositions. I am trying to better understand American society and culture, in an attempt to blend American and Chinese cultures and to create works of my own style."
Like a pilgrim on his holy journey, Liu Ren has been travelling his own path in artistic exploration, from one shore to another.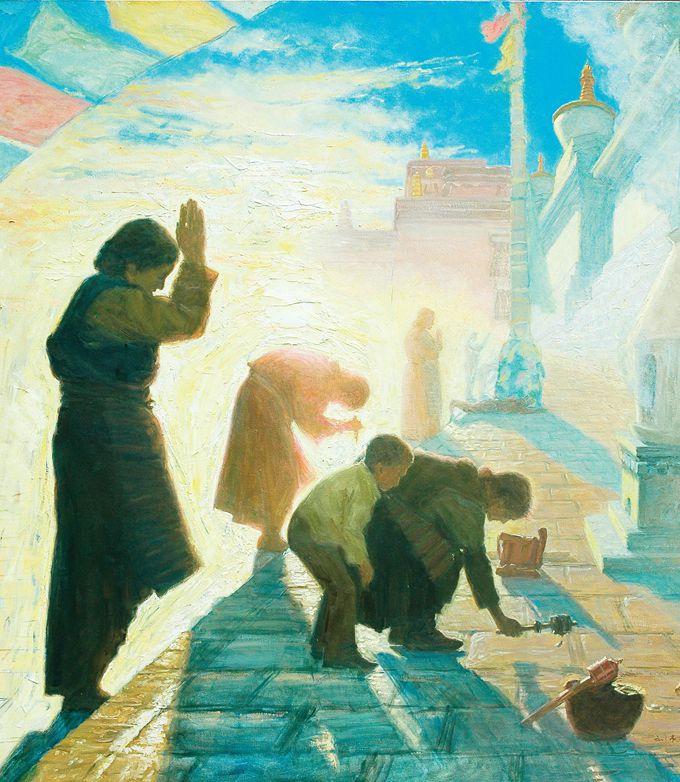 Interview : Lillian Zheng
Translation : Rose Wang
Photo : New San Cai