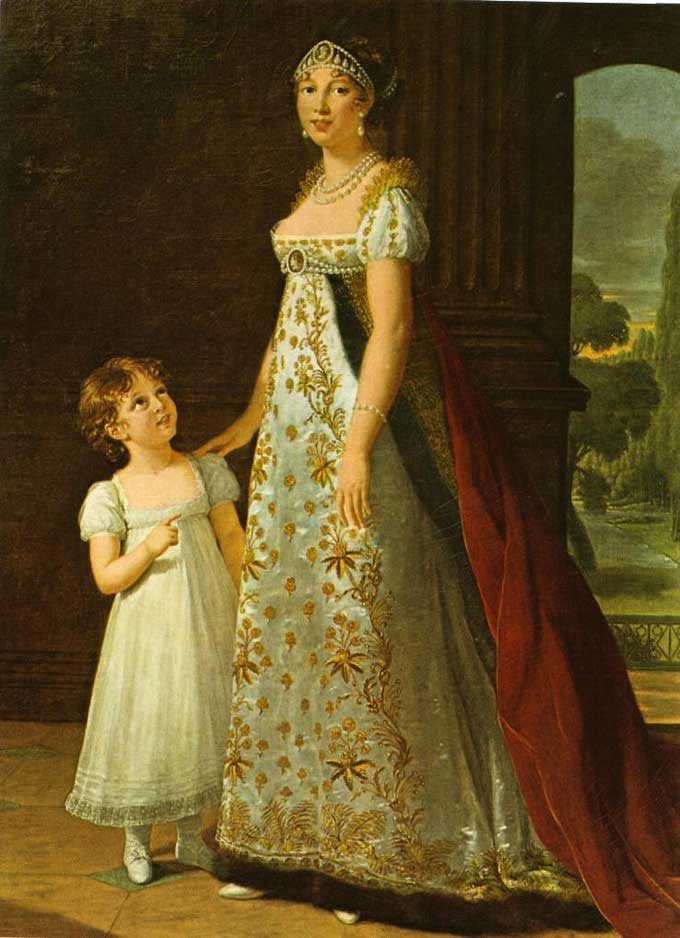 Caroline Murat with her daughter, Letizia. Oil on canvas, Versailles.
The wristwatch was never patented because to wear a wristwatch is considered an action too common to be patented.
If we exclude the story that tells of Queen Elizabeth I of England receiving an arm clock in 1571, Breguet would be the first company to produce an official wristwatch for the ladies in 1810, that was offered to Napoleon's sister, Caroline, Queen of Naples.
Breguet was founded in 1775 by Abraham-Louis Breguet in France, and is now part of the Swatch Group,  while Breguet timepieces are produced in Vallée de Joux, Switzerland.
Abraham-Louis Breguet is the inventor of the Tourbillon, a component of the mechanism from a mechanical or automatic watch, that cancels the effect of gravity on the clock when it is stuck in a fixed position for a longer period of time. His invention is still used today in various forms, primarily for its function, but also as a design element.
The first tourbillon watch came into the form a carriage clock invented by Abraham-Louis Breguet for Napoleon Bonaparte.
Let's observe how a Tourbillon actually works in two of the most finest timepieces Breguet has to offer.
First, Breguet Classique "Grande Complication" wristwatch, in 18-carat yellow gold, with tourbillon. 
It has a self-winding movement engraved by hand, 5-day power-reserve indicator, running seconds on the tourbillon shaft, compensating balance spring with Breguet overcoil, silvered gold dial, hand-engraved on a rose engine and a sapphire caseback. It can be pink, gold or platinum.
And here is how all of these blend together:
More details about this timepiece can be found here.
Next, Classique "Grande Complication" wristwatch in 18-carat rose gold, with twin rotating tourbillons. 
It has two independent tourbillons affixed by a bridge to a centre plate completing a rotation in 12 hours, balance springs with Breguet overcoil, manually engraved hand-wound movement, silvered gold chapter ring, centre plate hand-engraved on a rose engine and sapphire caseback. It is water-resistant to 3 bar ( 30 m ), with a diameter of 44 mm and can also be found in platinum.
And now, all of them together:
More details about this timepiece can be found here.
Breguet is a watch brand that will never cease to surprise you, as it develops timepieces with designs that will make you ask yourself: "How can they create so many beautiful watches?"
Recommended Articles:
What Does Your Watch Tell About Your Personality
Cartier Drive: A Shaped Watch Collection of an Elegant Pedigree
Jaquet Droz: A Flow of Poetry