Image credit: Lihua Zheng/New San Cai
Driving down California's Pacific Coast Highway 1, away from the hustle and bustle of cities, you will enjoy freedom and spaciousness between the ocean and sky. Beside ever-changing scenic coastlines, mountains and village houses, you may begin to wonder if there are any other places, places that dwell beneath the mountains or hide by the shimmering corners of the ocean.  
If San Francisco and Los Angeles are like two shining gems that connect California's north and south coast, then the small and diverse California towns, situated along the coast, are like hidden diamonds, whose sparkles catch the eye of all those who know where to look. Among them is Santa Barbara, a quiet and graceful town that travelers might easily miss if not careful. 
Image credit: Lihua Zheng/New San Cai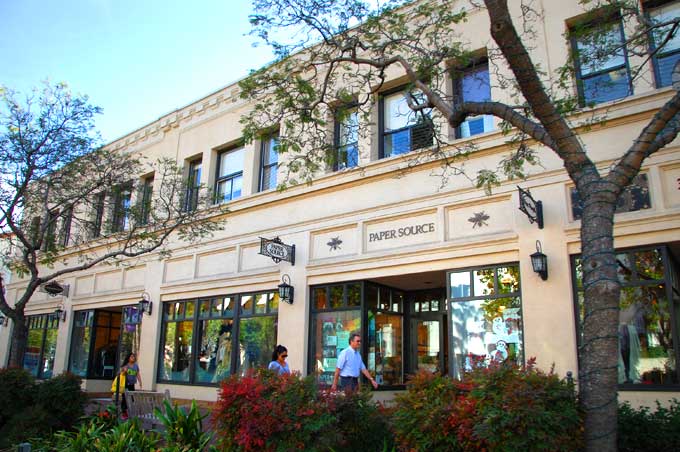 Image credit: Lihua Zheng/New San Cai
Image credit: Lihua Zheng/New San Cai
As an internationally-renowned vocational town, Santa Barbara is not only a weekend retreat for celebrities and elites, but also for any vacationers interested in dining at some of the best restaurants in the U.S. Visitors from different nations abound in Santa Barbara all year round. Join us now as we embark on a journey to California's wonderland—Santa Barbara. 
State Street of Santa Barbara
Two hours' drive from Los Angeles, the history of Santa Barbara dates back to the early 16th century, when Spanish adventurers and missionaries arrived. They built the town with Spanish architecture and culture. Today, Santa Barbara maintains strict building regulations. All coastal structures have to be under two stories, and streets must be free of flashy advertising billboards. As a result, the Santa Barbara skyline and most of its traditional buildings are well-preserved.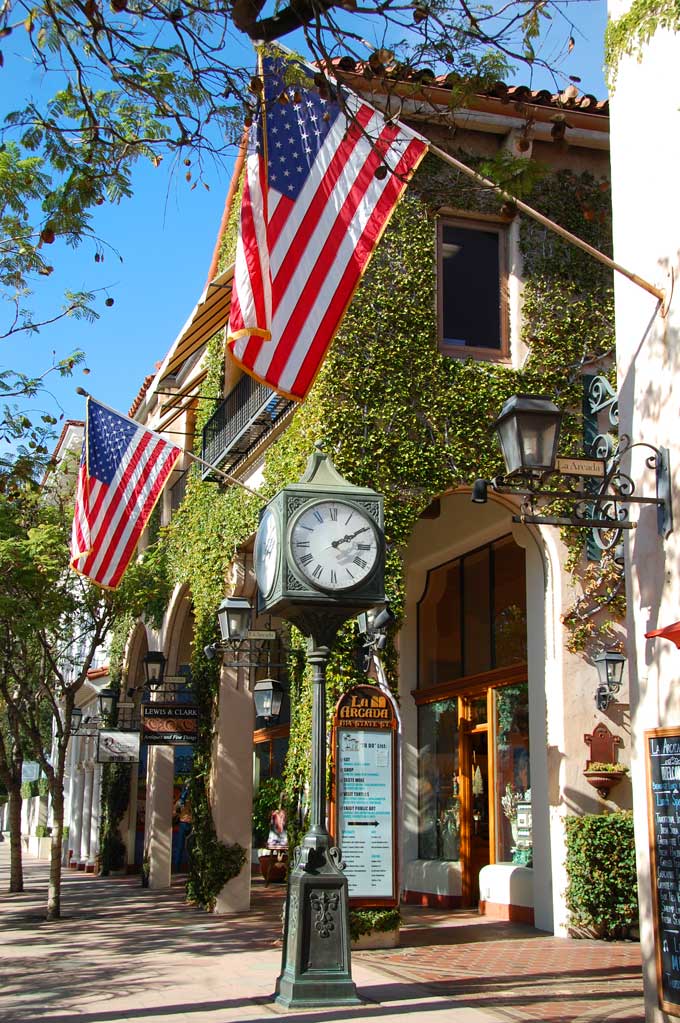 Image credit: Lihua Zheng/New San Cai
Image credit: Lihua Zheng/New San Cai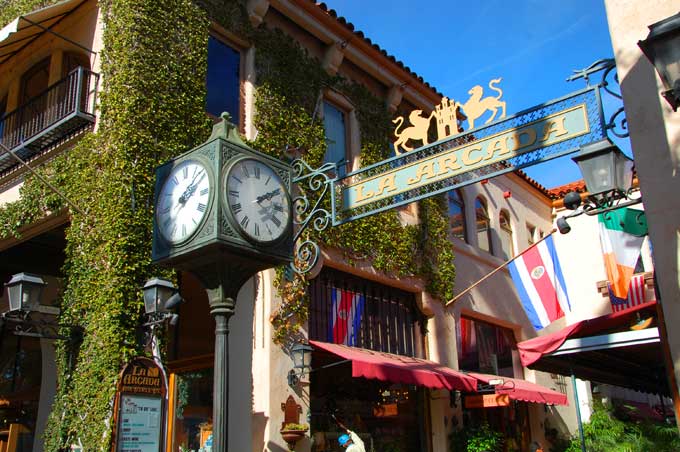 Image credit: Lihua Zheng/New San Cai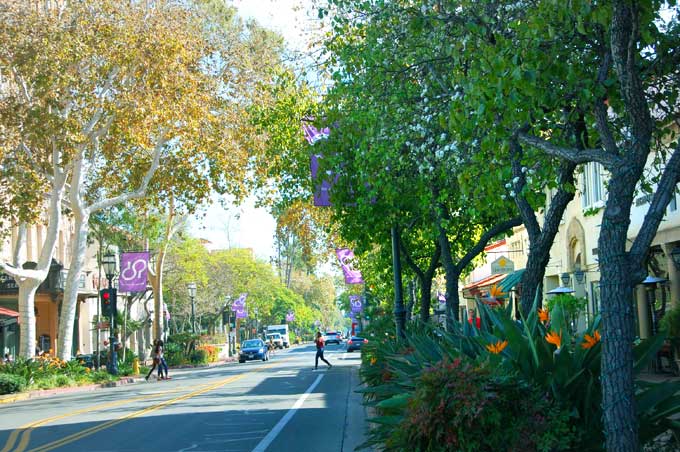 Image credit: Lihua Zheng/New San Cai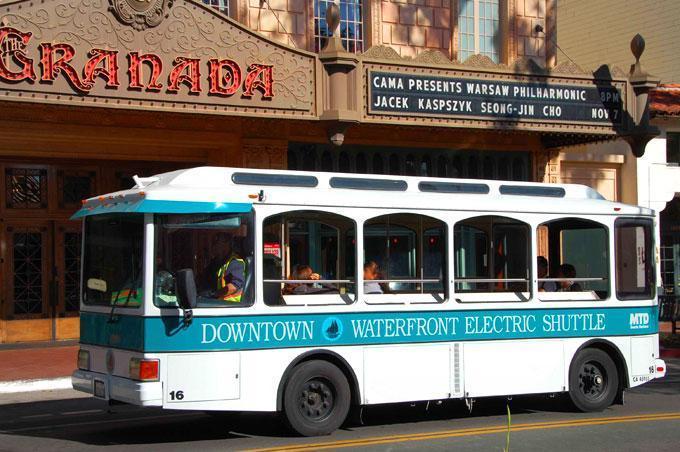 Image credit: Lihua Zheng/New San Cai
Strolling down State Street, you may feel as if you've been swept into the romance of a small Spanish village. Architectural aesthetics in white, red and orange along the street present a colorful sight, along with an orderly layout. Lined with the best gourmet restaurants and exotic shops, State Street also flourishes with a wide range of tropical plants and flowers. Sipping a cup of coffee on the street, time almost comes to a standstill as you indulge in the poetic beauty and effortless relaxation. 
Simpson House Inn
Driving past the bustling State Street along several paths, surrounded by towering trees with layers of thick green foliage, you will encounter Santa Barbara's secret garden oasis —Simpson House Inn. 
Image credit: Lihua Zheng/New San Cai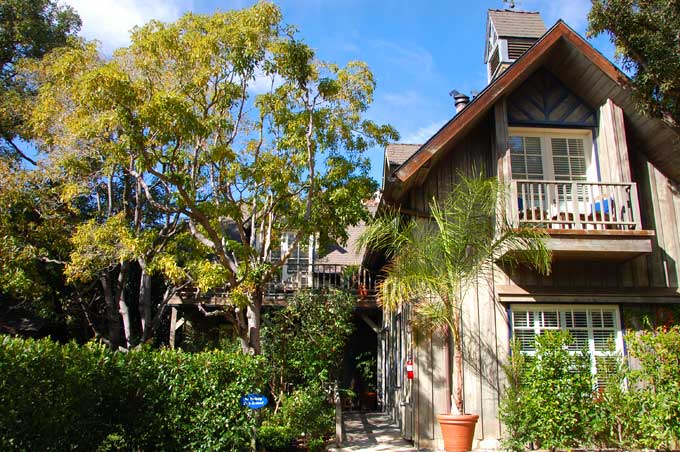 Image credit: Lihua Zheng/New San Cai
Stepping into the yard, you will undoubtedly be fascinated by singing birds, floral fragrances, and an antique fountain with flowing water. 
Image credit: Lihua Zheng/New San Cai
Somehow your visit will not scare away the birds drinking from the fountain water, but call in a friendly housekeeper. She would give you a warm welcome, and guide you to carefully park your car so that you will not get lost at some turns. 
Strolling along this 18th century manor, you find yourself immediately transported into a dream home, featuring elegant decorations, majestic furniture, as well as a hanging wall clock in the hall, that tick-tocks a story slowly to life.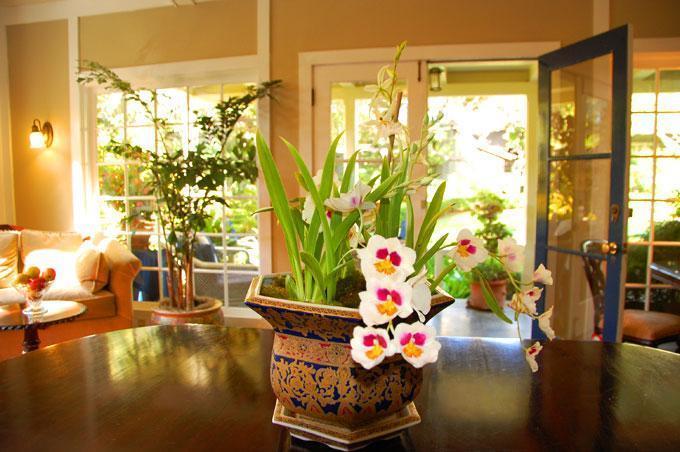 Image credit: Lihua Zheng/New San Cai
Image credit: Lihua Zheng/New San Cai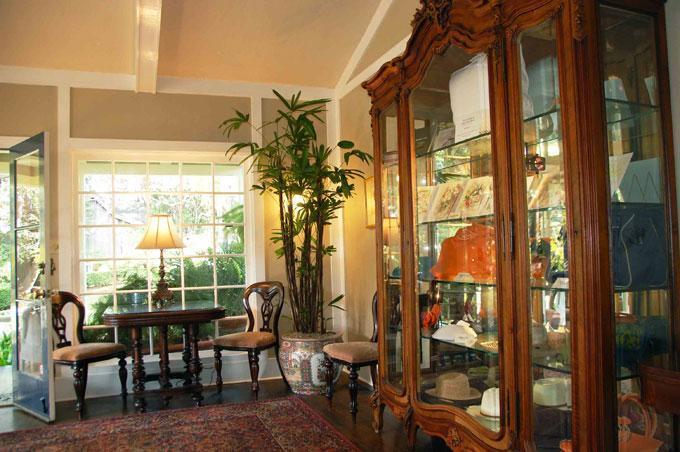 Image credit: Lihua Zheng/New San Cai
The tasty home-made snacks and local wines are waiting for every guest who enters the lobby. Hospitable warmth and comfort greets each guest, and is just the first of many special moments you are to have here. 
Recognized as one of the few five-star rated inns in California, Simpson House Inn is one of the well-preserved Victorian buildings that withstood the great 1925 Santa Barbara earthquake. Having been renovated several times and traded among several owners, the architectural complexes still preserve their modest elegance. 
Image credit: Lihua Zheng/New San Cai
Victorian style guestrooms marked with distinctive decorations bring guests home-like warmth and comfort.. With elegant wallpaper patterns, bright large windows, clean wooden beds and elaborately designed furniture, you will definitely be wanting to extend your stay.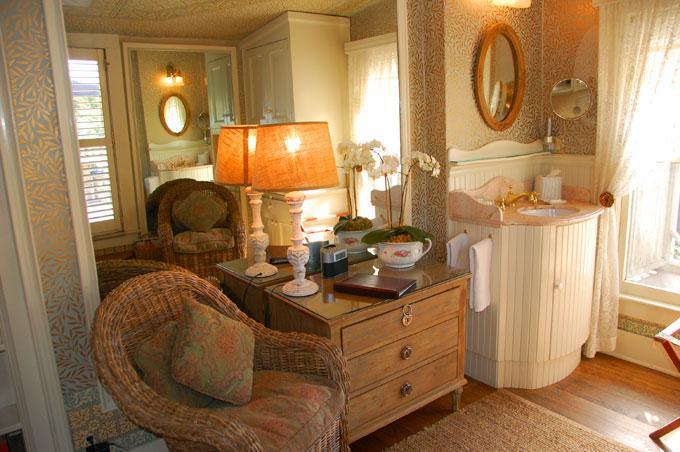 Image credit: Lihua Zheng/New San Cai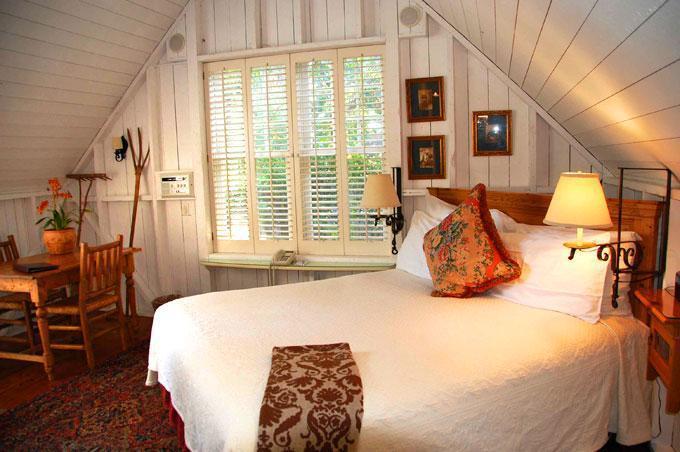 Image credit: Lihua Zheng/New San Cai
Image credit: Lihua Zheng/New San Cai
Image credit: Lihua Zheng/New San Cai
By dining on the balcony that overlooks the beautiful garden, having warm night chats in front of the fireplace, or taking a bubble bath in a Jacuzzi tub to relieve journeys fatigue, you will cherish such unforgettably beautiful moments.  
It's not just the guestrooms that make you linger. Lying on a couch at a tranquil corner of the green garden, one can simply gaze up at the blue sky and white clouds. Under the tree shadow and by the flower garden, have a glass of champagne or wine, reading, meditating, or chatting with your partner, a stay at Simpson House Inn offers a unique and fulfilling life experience.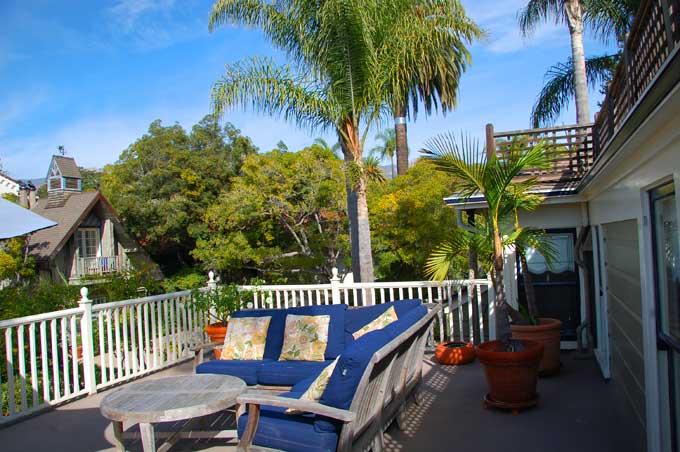 Image credit: Lihua Zheng/New San Cai
Image credit: Lihua Zheng/New San Cai
The early evening is the perfect time for a stroll outside of the inn, to take in the nighttime scenery of Santa Barbara. Within walking distance of Simpson House Inn, about a mile away, you can reach sites such as Alice Keck Park Memorial Gardens, Almeida Park, and the city concert hall. Stroll a little further and you will find an art museum, shop-filled streets, and the St. Barbara Church. 
Santa Barbara Beach
Also known as the French Riviera in the US, wandering along the Santa Barbara beach, you may encounter many artists at work on their creations. Built in 1872, Stearns Wharf has become a well-known attraction, featuring plentiful restaurants, unique shops, bars, and even an aquarium.
Image credit: Lihua Zheng/New San Cai
East and West Beach, separated by Stearns Wharf, are ideal locations for surfing and windsurfing. During the summer, you can enjoy its picturesque blue sea, dotted with white sails along the coastline. If you dream of relaxation on a beautiful beach, blessed with perfect weather and a carefree atmosphere, then look no further. 
Ronald Reagan Presidential Library
If you like culture and history, then the Ronald Reagan Presidential Library in Simi Valley, about 60 miles away from the Simpson House, is a must-stop for you. The biggest of the 12 US presidential libraries, the Ronald Reagan Presidential Library is a repository containing detailed information on the US democratic system and the amazing life of President Reagan.
Image credit: Stusviews/commons.wikimedia.org

The library displays a full-scale replica of the Oval Office, a retired Air Force One plane, a retired fighter aircraft, as well as a presidential state car. The library vividly reflects President Reagan's determined personality and historical legend. In addition to exhibits, a restaurant and garden, the library is situated atop a hillside, and offers beautiful views. It is definitely a great place to visit. 
Fess Parker Winery
If you like California's wine culture, drive north (from Santa Barbara) 40 miles to Fess Parker Winery, well-known for its high-quality selection. Many of the wine varieties produced in the winery are highly acclaimed by wine magazines, publications widely acknowledged to be an authority on wines (such as Pinot Noir). With beautiful structures, Fess Parker Winery is a place for families and friends. Visitors can enter a stone porch that leads to the wine tasting room. A green lawn and a picnic area under the canopy of trees is an ideal place for picnicking and relaxation. 
Channel Islands National Park
If you are a nature lover, Channel Islands National Park is certainly your best choice. Located in the Pacific Ocean off the coast of Southern California, you get a panoramic view of the chain of islands running between Santa Barbara and Los Angeles. Preserved as a national park, the islands are home to unique plant and animal species, the island fox in particular, as well as rich marine life, including whales, dolphins, sea lions, seals, sea otters and sharks. 
Ending    
Visiting Santa Barbara, you will undoubtedly enjoy each day to the fullest. Make sure to catch one of the local concert hall's staged performances from around the world. Immerse yourself in world-class operas, plays, and awe-inspiring orchestral performances. If you're up for it, set sail on a boat off the Santa Barbara coast. It will be a special sailing excursion that will add countless happy memories to your trip.
Santa Barbara is not only your perfect holiday town, but also a wonderland filled with secret treasures, where you can embark on a wealth of journeys to enrich your mind and add excitement to your life.   
Translation by Amy Lien