Les Calanques is a unique experience in southern France, where the waters glow and the coasts lure you with their fragrance. We invite you on a hike, a boat or train trip through the majestic Calanques.
According to Wikipedia, a calanque is a narrow, steep-walled inlet that is developed in limestone, dolomite, or other carbonate strata and found along the Mediterranean coast.
This piece of land from Marseille is about 20 km long and became a protected area in the '70s. Although it's almost completely inaccessible for cars, you can still relax in the warm waters of the Mediterranean, which caresses this part of the coast, through different routes that can be crossed only on foot or through fun boat trips.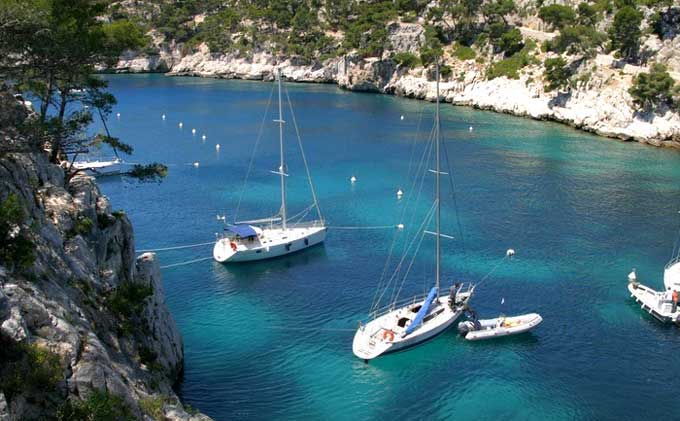 Recommended Articles:
Caño Cristales: The River Known As The Liquid Rainbow
Valley of Nine Fortified Villages: The Sacred Land For Local Tibetans
This wonderful area is between Callelongue and Port Pin, where beautiful white cliffs abruptly end in the sea, where almost no one can retain a deep sigh before such a spectacle of nature. Les Calanques were formed about 12,000 years ago, when the water level rose invading the valleys.
The special climatic conditions in the region have given rise to a rich variety of flora and fauna, with rare and delicate species such as the Gouffé grass, which exists nowhere else in the world. In the past centuries, the area was inhabited by shepherds, who had furnaces and sheepfolds whose ruins can be seen even today.
Recommended Articles:
Sark Island: The Place Where You Can't Find A Single Car on The Road
Interesting Facts About The Eiffel Tower That You Didn't Know
Sormiou is the largest gulf from Calanques, and is simply gorgeous. Here, a diver from Cassis discovered an underwater cave decorated with prehistoric paintings, now closed to the public. 
Not only that, Sormiou has many "cabanons", famous and full of color, reminiscences of fishermen from the past. En Vau, on the other hand, is a bay known for its emerald waters and numerous vertical walls, very appreciated by climbers. From here you can admire the wonderful panorama of spiers and steep cliffs that end with the sea.
We must remember that Calanques is banned from cycling, camping into the wild and of course, lighting fires.
The Tourism Office of Cassis will provide to all interested to visit the region, detailed maps of the trails that are waiting to be discovered in this wonderful area that will leave its mark on your heart. 
In addition to the magic of the Provence region, with its lavender fields and the wonderful Calanques, we should also remember the French hospitality and food, but we will tell you about this journey in another article.
Recommended Articles:
Andorra's Perfume Museum: A Journey Into the World of Fragrances
Top 10 Most Impressive Caves in the World
Biarritz: A City Whose Charm You Will Remember